Mount Hebron Cemetery
At the turn of the 20th century, immigration from Europe and Russia to the United States was at an all time high. This immigration took the form of a family member, usually the patriarch, leaving his wife and children behind and using the family's savings to journey to America. Upon arrival in America, he was usually met at the dock by someone from his town or village who was already established in this country. Our erstwhile traveler was taken in, given a place to sleep and given a job. Once established, he would send for the rest of his family.
It was not uncommon for an apartment building in New York City to house only immigrants from a particular town or village from the "old country". As part of the dynamic of the building, a social structure emerged in the form of a landsmanshaft or society or a synagogue, sometimes formal and incorporated and sometimes just a confederation of like thinking individuals. The society provided for the social life of the inhabitants of the building, and in some cases provided health coverage of sorts and burial benefits. The societies would purchase large tracts of land at local cemeteries for burials of its deceased members. During its early years, Mount Hebron sold roughly 80% of its land to the local Jewish societies. Each society usually commemorated the organization in some manner, such as granite gates at the entrance to the society's burial grounds emblazoned with the name of the society or village it represented, the names of its past officers, etc.
The first burial at Mount Hebron Cemetery was on April 14, 1909. Since then, over 217,000 burials have taken place.
Mount Hebron Cemetery is a full service cemetery and acts in accordance with New York State Not-For-Profit Corporation Laws. Mount Hebron Cemetery allows for only one burial per grave. Our regulations do not require a vault for burial. Burials of cremated remains and in private mausoleums are common place at Mount Hebron Cemetery.
Mount Hebron cemetery also has a memorial wall. Here, the names of your loved ones may be inscribed as a lasting and loving tribute no matter which cemetery they were interred. Niches are also available on the reverse side of the wall where cremated remains may be placed on shelves.
Care can be provided for all our graves on a seasonal basis or an endowment can be created so that graves can be attended to in the future.
Societies at Mount Hebron Cemetery
Click here to view a list of the societies at Mount Hebron
Cemetery Grounds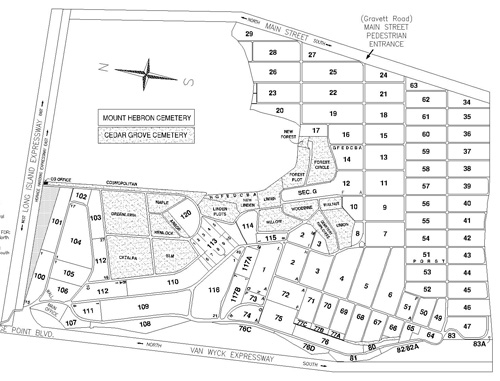 Click here for printable image